NorGlide 2014 › Results › Day 2 › 19.04.2014
Training Day 1 Day 2 Day 3 Day 4 Day 5 Day 6 Day 7 Day 8 Overall Results
Racing Task | Final Results | Maximum Points: 674 | Day Factor = 1.0000
| | | | | | | | | | | |
| --- | --- | --- | --- | --- | --- | --- | --- | --- | --- | --- |
| # | | PILOT | CN | RN | PLANE | DISTANCE | TIME | SPEED | PEN | POINTS |
| 1 | | Martin Kozar | MK1 | OM-2002 | Discus2 | 250.09 km | 02:11:06 | 114.4 km/h | 0 | 674 |
| 2 | | Rudovous Kruty | XX1 | OK-ALF | Discus2 | 250.09 km | 02:12:39 | 113.1 km/h | 0 | 661 |
| 3 | | Tomas Brotanek | TB | OK-0516 | Discus2 | 250.09 km | 02:15:11 | 111 km/h | 0 | 641 |
| 4 | | Helmut Kuenne | F9 | D-2318 | Discus2 | 250.09 km | 02:16:05 | 110.3 km/h | 0 | 633 |
| 5 | | Witold Rozak | WRW | SP2323 | Discus2 | 250.09 km | 02:18:39 | 108.2 km/h | 0 | 614 |
| 6 | | Radek Mica | RUM | OK-5417 | LS8 | 250.09 km | 02:18:50 | 108.1 km/h | 0 | 612 |
| 7 | | Radek Pilar | RP9 | OK-7412 | LS8 | 250.09 km | 02:18:57 | 108 km/h | 0 | 611 |
| 8 | | Marcin Martyna | MRM | SP-2772 | Discus2 | 250.09 km | 02:20:43 | 106.6 km/h | 0 | 598 |
| 9 | | Slava Raduga | 050 | RA-DUGA | Discus2 | 250.09 km | 02:22:54 | 105 km/h | 0 | 582 |
| 10 | | Tom Holloran | TWH | N220TH | LS8 | 250.09 km | 02:23:04 | 104.9 km/h | 0 | 581 |
| 11 | | Aleksey Chernov | AV7 | AIRMAN | Discus2 | 250.09 km | 02:24:22 | 103.9 km/h | 0 | 572 |
| 12 | | Tomasz Lazorko | PSP | SP-0998 | Discus2 | 250.09 km | 02:26:42 | 102.3 km/h | 0 | 556 |
| 13 | | Jon Holland | 123 | G-RUSH | LS8 | 250.09 km | 02:27:02 | 102 km/h | 0 | 554 |
| 14 | | Jiri Adam | ADX | OK-0024 | Discus2 | 250.09 km | 02:27:22 | 101.8 km/h | 0 | 552 |
| 15 | | Valentin Tornavi | 574 | RA-SLY | Discus2 | 250.09 km | 02:28:01 | 101.4 km/h | 0 | 547 |
| 16 | | Josef Spirik | S50 | SPIRA | Discus2 | 250.09 km | 02:28:01 | 101.4 km/h | 0 | 547 |
| 17 | | Jiri Ehrenberger | PJE | OK-6417 | ASW28 | 250.09 km | 02:30:14 | 99.9 km/h | 0 | 533 |
| 18 | | Homa Brut | OPG | HOMA | Discus2 | 250.09 km | 02:31:31 | 99 km/h | 0 | 525 |
| 19 | | Jiri Nemecek | D32 | OK-6432 | Discus2 | 250.09 km | 02:33:00 | 98.1 km/h | 0 | 515 |
| 20 | | Michel Bonardel | BNL | MB-170 | Discus2 | 250.09 km | 02:36:29 | 95.9 km/h | 0 | 494 |
| 21 | | Milos Koch | MK | OK-1823 | ASW28 | 250.09 km | 02:37:47 | 95.1 km/h | 0 | 486 |
| 22 | | Sergio Chausov | SVC | UR-BEAR | LS8 | 250.09 km | 02:37:17 | 95.4 km/h | 4 | 485 |
| 23 | | Rudolf Kalousek | R1K | OK-7777 | Discus2 | 250.09 km | 02:39:35 | 94 km/h | 0 | 476 |
| 24 | | Bob Fielder | CKF | 3110 | LS8 | 250.09 km | 02:42:47 | 92.2 km/h | 0 | 458 |
| 25 | | Jiri Holub | JHO | OK-4408 | Discus2 | 250.09 km | 02:44:26 | 91.2 km/h | 0 | 449 |
| 26 | | Naoki Takechi | NT3 | JA-CAC | LS8 | 250.09 km | 02:50:27 | 88 km/h | 0 | 418 |
| 27 | | Michel Valade | VAM | F-CEVI | Discus2 | 250.09 km | 03:03:53 | 81.6 km/h | 1 | 354 |
| 28 | | Evgeniy MOm | 025 | RA-054 | Discus2 | 250.09 km | 03:10:46 | 78.7 km/h | 0 | 327 |
| 29 | | Grzegorz Sidor | HYC | EU-HIGH | ASW28 | 250.09 km | 03:35:24 | 69.7 km/h | 6 | 298 |
| 30 | | Robin Martinus | RAM | I-RAM | Discus2 | 80.61 km | | | 0 | 98 |
| 31 | | Marcin Domagala | MDC | SP-2125 | Discus2 | 41.45 km | | | 0 | 50 |
| 32 | | Pavel Snajdr | ST | LT5 | Discus2 | 9.35 km | | | 0 | 11 |
| 33 | | Miodrag Ivanovic | IDM | YU-1039 | Discus2 | 29.3 km | | | 0 | 0 |
| 34 | | Piotr Raczynski | PIT | SP-2901 | Discus2 | 179.33 km | | | 0 | 0 |

Download IGC files (all pilots in one ZIP file) | Detailed results (mCR, mIAS, Detour%...)
Briefing › Day 2 › 19.04.2014 › 20:00 CEST › Saturday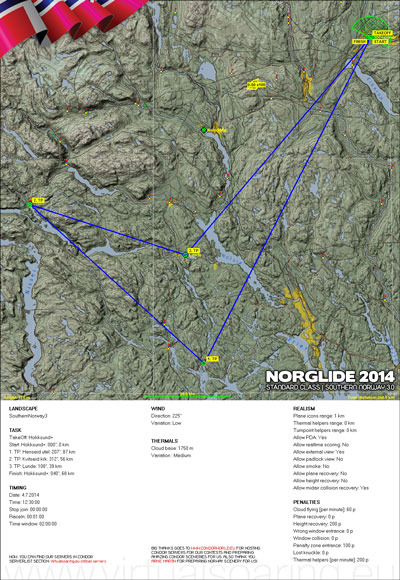 Server:NorGlide 2014
Password:
Date:19.04.2014
Time:20:00 CEST (18:00 UTC)
Join time:30 min.
---
Landscape:Southern Norway 3.0
Plane class:Standard Class
Task type:Racing Task
Race-in time:1 min.
Time window:120 min.
Start time:12:30:00
Condor date:04.07.2014
Start altitude:max. 1500 m QNH
---
TakeOff:Hokksund
Start:Hokksund
1. TP:Henseid utel
2. TP:Kvitseid krk
3. TP:Lunde
Finish:Hokksund
Distance:250 km
---

Cloudflying not allowed! Circeling in the direction of climb is determined by the first glider in thermal. If you have doubts about the circeling direction, ask in the chat. Attention: some penalty zones (CTR/TMA) are active, please watch your PDA all the time! Please fly safe, good luck to all pilots.
---

Download Flightplan (FPL file)
---
comments powered by

Disqus